Sell Your Car In Myrtle Beach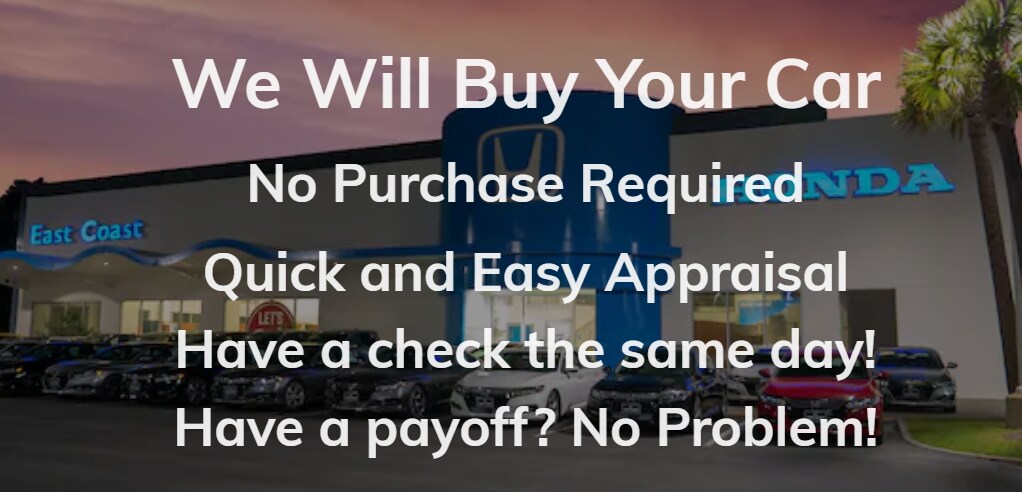 Why Not Sell My Car On Facebook?
Facebook is a great service, we are not denying that but the transaction can get complicated.
Does the buyer need to get financing first or are they paying cash?

Do you have all the right paperwork to complete the transaction?

What about property taxes?

And most importantly, is it safe?

You do not have to worry about any of that when you sell your car to East Coast Honda because we take care of everything.
Worry free transaction that takes 30 minutes!

What If I Still Owe Money On My Car?

Payoffs are not a problem
. We deal directly with the banks to get your accurate vehicle payoff amount and can
write you a check on the spot for the difference in value.
Owe more than what your car is worth?
East Coast can help get you out of your current vehicle and into one of our new or pre-owned vehicles, such as a new Honda Passport or CR-V, for less.  Right now incentives and rebates are higher than they've ever been, and this makes it extremely easy to trade your old car for a brand new one. East Coast has hundreds of new vehicles from top manufacturers.  We also carry an expansive selection of quality used vehicles.  Chances are we have the exact vehicle that you're looking for. 
Why Would We Want To Buy Your Car?

At East Coast Honda, our entire pre-owned inventory is stocked by local customer trade-in vehicles. We do not source our cars from wholesalers, auction houses, or old rental cars. We know it is better to purchase cars from our local customers.
No purchase necessary
, no games, gimmicks, or funny business.

There is absolutely no obligation to buy, so don't wait!
  East Coast wants to buy your car today! Come in and see how much you can get for your vehicle.
**In order to receive a check on the same day we need to have the title to your vehicle. If you have a payoff amount, we will write you a check once the title has been received. All handled on our end so no additional stress for you, the consumer.**
Schedule Your Appraisal Today
* Indicates a required field
Before you buy a used car from CarMax or Carvana, you should ask yourself: What's missing?
Can You Buy A Certified Pre-Owned Vehicle? 
East Coast, your #1 South Carolina Honda Dealer, sells Pre-Owned Cars that are Certified by the manufacturer for quality and reliability. They also come with FREE extended warranties up to 7 years and 100,000 Miles! Carmax and Carvana cannot sell
Certified Pre-owned vehicles
.
Will Your Car Come With Service Benefits?
We have a staff of factory trained technicians and a state of the art service department backing up all our cars we sell. CarMax and Carvana don't service the cars they sell.
What About Delivery?
East Coast delivers anywhere in the Carolinas! From our lot to your driveway.
What About Warranties?
Our pre-owned cars come with a 3-day exchange and many are covered by a 60-Day/3,000 mile warranty. Our Certified Pre-Owned cars have up to 7 years and 100,000 miles included.
Are You Working With A Local Business?
We are a local business invested in our community and our neighbors. We sell used cars that were driven by your neighbors. Most of our used cars were originally purchased from East Coast and serviced at our service department.
Need To Sell Your Car?
We'll buy your car even if you do not buy ours! Sell us your car today.