2022 Honda HR-V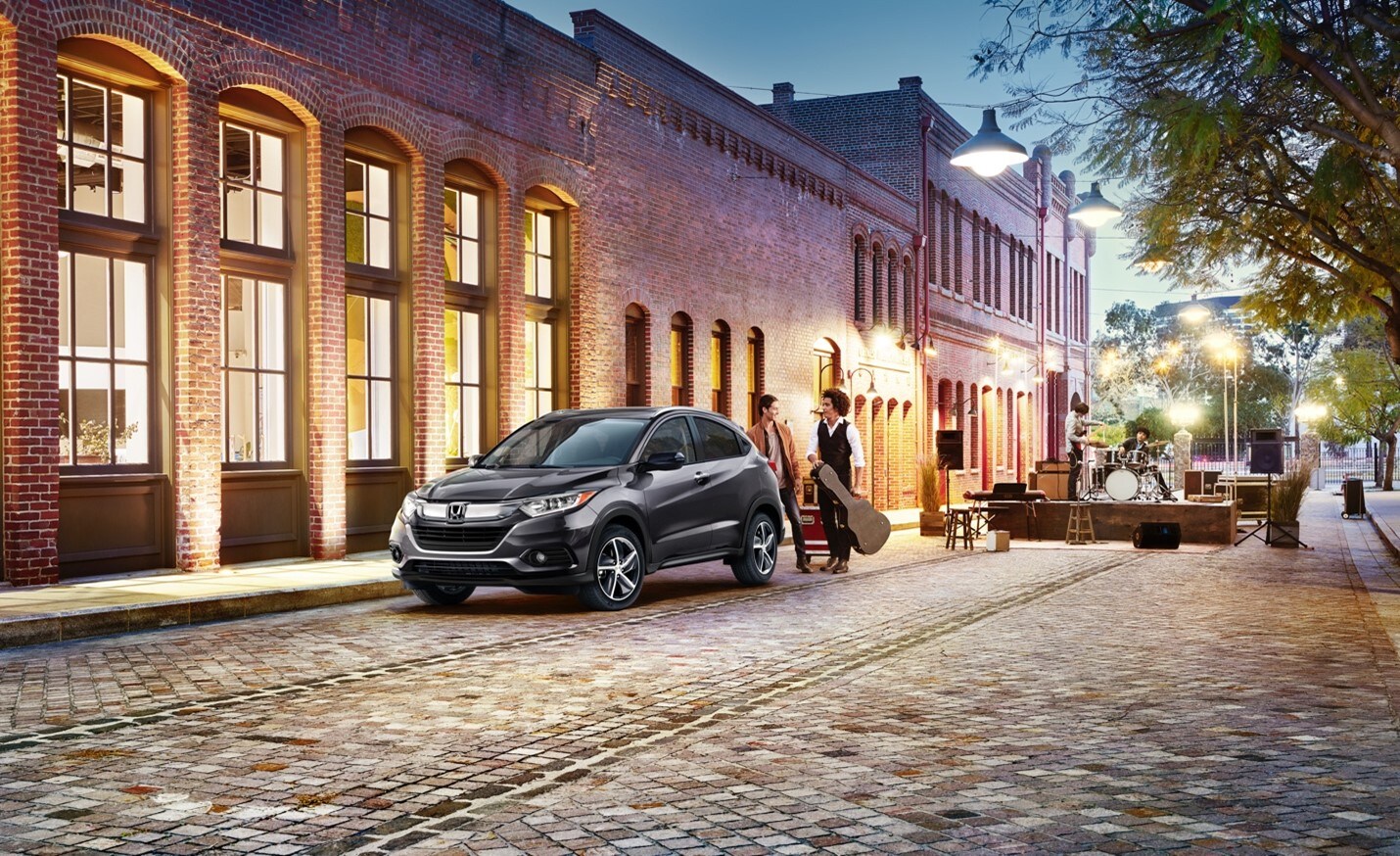 A Subcompact SUV With Something for Everyone
Get yourself out of your old car and into the brand new 2022 Honda HR-V, a stylish subcompact SUV available now at East Coast Honda in Myrtle Beach! With a new redesigned sporty exterior and an incredibly spacious interior equipped with a host of safety and technological features, the Honda HR-V is the perfect vehicle for cruising around town in or for accompanying you on your next big adventure.
A roomy interior and a plethora of comfort features make the 2022 HR-V an extremely practical car! From Magic Fold-down seats to climate control and a hands-off infotainment center, the Honda HR-V has a little something for everyone. Cruise down the coast of Myrtle Beach in this fuel efficient and safe subcompact SUV and have the experience of a lifetime.
A Roomy Interior Cabin With Intelligent Features
The 2022 HR-V is ready to get you where you need to go efficiently. Stay connected to the rest of the world with the HR-V's advanced interior infotainment system. With a One Touch car start and a larger, 7-inch display audio touchscreen, you can quickly get your car started and begin navigating to your next destination before ever leaving your garage! The addition of the touchscreen Climate Control system allows you to get the interior cabin at the perfect temperature to keep everyone happy before setting off on the journey ahead.
With such a roomy interior, you can pack up all of your biggest luggage without a problem and still have room for more. The addition of the Magic Seat feature in the second row allows you to fold down the seats for all of your long cargo or fold them up for all of your tall cargo! You can even fold down the passenger seat to create one long channel to tackle even your biggest of moves.
Enough Cargo Space to Fit It All
You get the best of both worlds when you choose to drive a subcompact SUV. The Honda HR-V doesn't take up too much parking space while still seating a total of five, leaving plenty of head and leg room. Luxury features on the standard trim like leather trim and heated seats and a leather wrapped steering wheel make the 2022 HR-V SUV a head turner. Keep your electronics charged with the 1-volt power outlet in the interior cabin and keep yourself entertained by gazing through the moon roof at the stars above.
Even without the seats folded up, the Honda HR-V's cargo area is extremely spacious! It comes equipped with a cargo area light, so you know exactly where your heaviest items are going, no matter the time of day. Tie-down anchors keep your luggage in place, no matter what type of terrain you traverse. With even the messiest of items you need to stow away, the addition of a cargo tray helps the storage space stay immaculate, making cleanup is a thing of the past!
A Sporty Exterior That Makes a Huge Statement
Drive to the office in style, and experience the Honda HR-V's redesigned sporty exterior, including a honeycomb grill and advanced LED taillights. Its redesigned 18-inch wheels give the HR-V SUV a tall and powerful stance that makes a statement on the road. The addition of a chrome bumper makes it all the more stylish!
Drive anywhere, anytime with complete confidence. The 2022 HR-V comes ready with a security system that includes a remote entry access. Any break-ins are taken care of, and you'll always be the only one who can access your car!
The 2022 Honda HR-V: An SUV With a Lot to Offer
With comfort and luxury features as well as above-standard safety and tech features, the Honda HR-V comes with everything you need to do anything you want, all while conveniently packed into a practical subcompact SUV. A sporty exterior coupled with a luxurious interior allows you to face the world with whatever personality you decide to show.
Explore our extensive online inventory now or come to our dealership in person to test drive the Honda HR-V at East Coast Honda in South Carolina and discover for yourself all that is has to offer!
2022 HR-V 2WD Sport Featured Special Lease
$219 lease per month for 36 months. $3,699 due at signing. 
Offer only valid 3/1/22 through 5/2/22.
2022 HR-V AWD Sport Featured Special Lease
$219 lease per month for 36 months. $4,399 due at signing. 
Offer only valid 3/1/22 through 5/2/22.
East Coast Honda

8756A US Highway 17 Bypass South
Myrtle Beach, SC 29588