2023 Honda Civic Sedan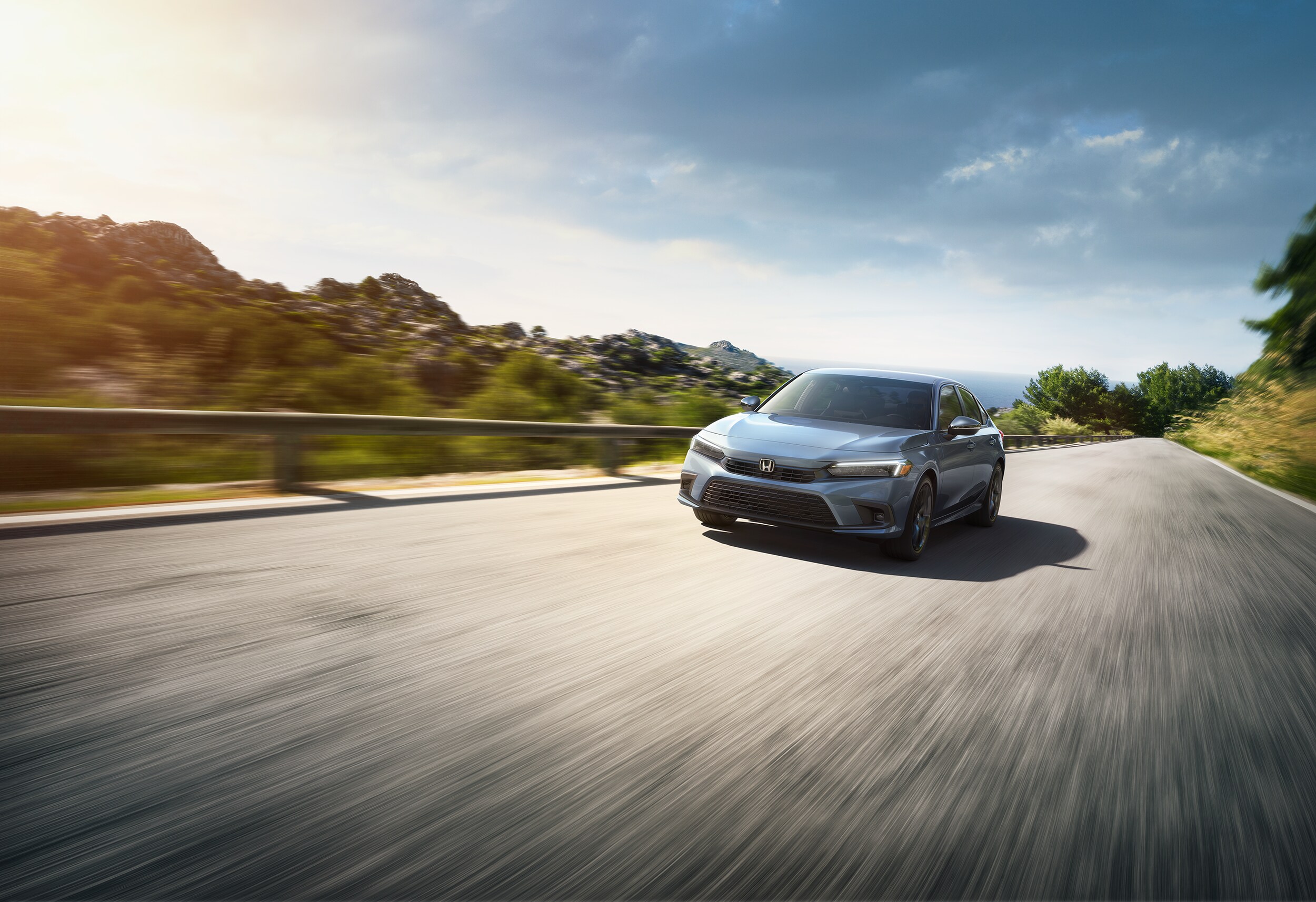 The 2023 Honda Civic Sedan: A Compact Car With a Lot of Personality
The redesigned and new 2023 Civic Sedan has made its entrance at East Coast Honda in Myrtle Beach, South Carolina! A new sporty and sleek design paired with a multitude of interior features make the all-new Civic Sedan a vehicle that's definitely worth looking into. Explore its sturdy exterior and luxurious interior now to discover exactly what you're missing out on.
An updated center console fully equipped with new technological and safety features, a roomy cockpit, and powerful new exterior features make the Honda Civic Sedan stand out from the crowd. Quickly cruise around the coastline or take the Sedan through tough terrain-wherever the road may take you, the Honda Civic will be along for the ride with you!
Updated Infotainment System for a Fun Road Trip
An updated infotainment system lets you customize and connect easily and efficiently to make every car ride a party! With the option of Wireless Apple or Android integration and a wireless charging pad, you can connect your device, customize what you listen to you, and stay fully charged without ever needing to even touch your phone. No matter where your adventure branches off to, staying connected and navigating wherever you need to go is easy and fun!
The stylish addition of the new honeycomb dashboard is extremely eye catching in the interior of the Civic Sedan. A base level 7-inch touchscreen display sits right above it, keeping things relatively hands free and your information remains super organized. The option of a 9-inch screen can be added to make things even clearer, so your eyes can focus fully on the road. The interior of this Sedan is absolutely state-of-the-art, setting it apart from all others.
Gather Your Friends and Stay Comfortable on the Trips to Come
The 2023 Civic Sedan has an unexpectedly roomy interior inside such a compact little body! Even so, it's able to maintain a refined and luxurious air with its leather trimmed seats and sunroof. A roomy cargo area allows for you to store all your necessities and not have to leave anything out on your next weekend getaway. A 60/40 fold-down rear seat option allows for easy hauling of large cargo or retrieving of items when you're in a rush. Other storage features like a front pocket under the center console allow for storing small necessities that can be easily retrieved on the long road trips to come.
Seating a total of five, this small sedan has enough space for you and all of your friends. Convenient storage spaces and plenty of leg room around the seats make it even more comfortable for any long trip coming to you in your future!
An Exciting Engine for an Exhilarating Drive
A myriad of added driver assist features put the Civic leagues ahead of other sedans. Most notably, Lane Departure warnings, a 3-Mode Drive System with the option of adding a fun Sport Mode, and even an Emergency Braking System keep drivers and passengers alike comfortable and safe, allowing you to enjoy the scenery a bit more. To experience the whole package, open up the sunroof and look up at the stars above while the Civic Sedan intelligently keeps everything in check.
The 2023 Honda Civic retains a powerful stance on the road, with its 180 horsepower Turbocharged engine and the added option of a 4-cylinder engine, making it incredibly robust and able to power through any terrain. Featuring its traditional front wheel drive, the Honda Sedan maintains great fuel economy, a smart way for you to save big in the long run. 
The New Honda Civic Available Now at East Coast Honda
Take a new approach at driving and choose a practical and versatile Sedan like no other, by test driving the 2023 Honda Civic Sedan from East Coast Honda today. With a cache of technological updates, a stylish and sporty design, and an exciting engine, the Civic has a little something in store for everyone.
East Coast Honda has the all-new Honda Civic Sedan in stock right now. Find your perfect match at our dealership in Myrtle Beach today. Check out our full online inventory now to see which Honda make is perfect for you!
$269 lease per month for 36 months. $3,399 due at signing.
Offer only valid 
3/01/23 through 5/01/23
.
$279 lease per month for 36 months. $3,599 due at signing.
Offer only valid 
3/01/23 through 5/01/23
.
* Indicates a required field