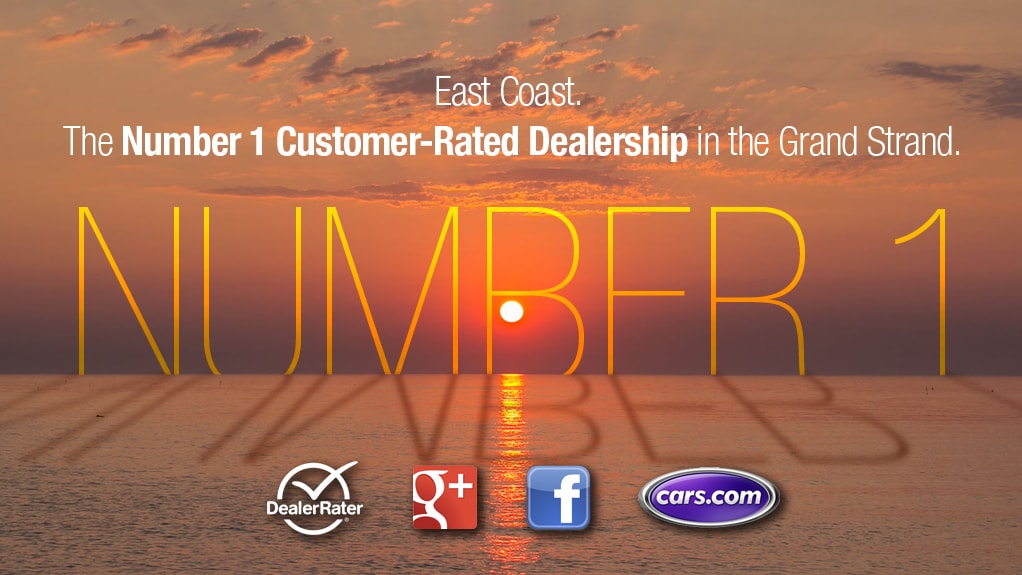 'Scott B' - Facebook Reviewer

I wanted to extend a big thank you to Chris Peterson @ East Coast Honda. A few days ago I purchased a new Honda CR-V and we couldn't be happier. Chris was awesome throughout the entire process. This was our family's second purchase in the last few months (daughter bought a new Civic) and Chris was our salesman on both occasions. He truly makes the experience pleasant and pressure free. I have already recommended Chris & East Coast Honda to several friends who are currently in the market for a new vehicle. Keep up the great work, and once again, Thank you!
'Angela L' - Facebook Reviewer

Huge shout out to Steve and Joe! They were phenomenal and worked so well with myself and my 6 year old son to get in a reliable car in my budget and in a hurry. Considering the circumstances I didn't feel the least bit of pressure and they were incredibly patient with my (stir crazy) son and my emotionally drained self. Don't miss out go to East Coast Honda for the most pleasant car buying experience.


'Kandice K' - Facebook Reviewer

I have purchased 2 cars from here and they are amazing !! And the workers go above and beyond for you. Will never go anywhere else. If you ever go ask for Mike
C
ollins!! He's very trust worthy!!


'Lonnie Y' - Dealerrater Reviewer

Just purchased a Honda Accord EX L. Had a great dealership to work with and Tripp is an outstanding salesman. Highly recommend anyone looking for a vehicle purchase to go here.


'Beach Family' - Cars.com Reviewer

After researching small/compact SUV's we had narrowed our choices down to the Honda CR-V and one other brand vehicle. We test drove at East Coast Honda and were impressed with the vehicle's ride, interior room, trunk space, and technology. Decided to stick with Honda - this is #7!




'Elva T' - Facebook Reviewer


I just want to thank Andrew Prue for helping me choose my new car! He had an answer for every question I asked. He was very helpful and showed me all the cars I wanted to see! I definitely would recommend anyone to go see and work with Andrew at East Coast Honda. Thanks Andrew!

'Larry and Connie K' - Cars.com Reviewer


If you are in the market for a new or used car and you want a very pleasant and satisfying experience, you will not be disappointed if you ask for Tripp Strickland at East Coast Honda/VW in Myrtle Beach, SC. Tripp is very knowledgeable and extremely pleasant to do business with. Many thanks Tripp for assisting us in our car purchase.




'Tammy W' - Facebook Reviewer


Melissa DeMarco made my shopping experience a breeze. She answered all of my questions and made sure I was completely satisfied with my decision. Love my new 2017 Honda CR-V Turbo.



'Trisha L' - Facebook Reviewer


I want to say thank you to Melissa DeMarco for all her work! For the patience she has had with my credit issues. I just bought my 4th car from her and went from a 25% interest on my first car to 1.9% on my fourth one. You always were positive and let me know that I could do it. I love that you have a no pressure attitude. I see you as my friend and not just my salesperson! Thanks again and I give you a big 5 stars!!!


'Pattym1110' - DealerRater Reviewer

We bought a new Honda Civic last year. Our sales person was Mike Collins. He was awesome. He was so knowledgeable, courteous and made the process smooth from beginning to end. So when we decided to purchase a new truck for my husband we knew we wanted Mike to handle this purchase also. I would highly recommend him to anyone looking to purchase a Honda. He really goes the extra mile to make sure that we were satisfied with our purchase.

'Joseph D' - Facebook Reviewer

I purchased a certified pre-owned 2015 Civic last week and its been great. Chris Peterson was awesome to work with, he's easy going and laid back and helped me find exactly what I was looking for. I would highly recommend East Coast Honda and Chris to anyone looking to buy a new car!

'beaujturner' - DealerRater Reviewer

I dealt with Mike McCardle and he made the process easy from the beginning to the end. Mike had fantastic customer service and went out of his way to make sure I was completely satisfied.

'Carrie W' - Facebook Reviewer

I recently purchased a new vehicle with East Coast Honda. Chris Peterson was my salesman and was excellent to work with. I would recommend anyone looking to buy a new or used car to contact him and he will make the car buying experience a pleasant one.

'Victoria' - DealerRater Reviewer

Mica Francis was very accommodating and made sure that I had everything I needed and wanted. I ended up driving off the lot with my new Honda that met all of my needs. She definitely knows what she's doing.  

'Eddie M' - Yelp.com Reviewer

Bought two cars here and Michael T is the man! He can make things happen and both times I was very happy with my experience! If your looking for a Honda this is the place! We all know Honda makes amazing cars!

'Asa A' - Facebook Reviewer

Had a great experience at East Coast Honda. Chris was down to earth and eager to lend a hand in finding the perfect car for my budget, as well as the performance and reliability I was looking for. Many thanks!

'Carol62' - DealerRater Reviewer

Chris Peterson, thank you for making our car purchase a great and comfortable experience! You helped us not only find the right vehicle to suit our needs, but also helped us find auto insurance. I am amazed at how quickly we were able to close the sale and enjoy the rest of the day driving our new purchase.

'Megan H' - Facebook Reviewer

I just bought a car from East Coast Honda and I couldn't be happier. Chris Peterson went above and beyond to make sure I was getting into the right vehicle that I loved. I definitely couldn't have imagined getting the car from anyone else and he made sure the car was unbelievably clean for me. Best service around!

'kathy70' - DealerRater Reviewer
Michael McCauley spent 3 hours with us. We drove 2 vehicles and sat in another. Unfortunately the vehicle we wanted was not at this dealership. We had agreed to wait for a vehicle but found one we wanted at another dealership. When I told Michael this, he was very nice about it. The salesman had worked hard to please us and I would recommend this dealership and Michael if you are looking for a new or used car. They are good people. 




'Rosie B' - Facebook Reviewer

Thank you to Chris Peterson and Lee Pryor for helping me out with the purchase of my certified pre-owned 2013 Honda Civic! I love it!

'Jeffl13' - DealerRater Reviewer

Corey Loving was a very professional and considerate sales rep. Went that extra mile to make sure we had the type of vehicle with the lower mileage that we wanted. Was helpful and very friendly. Would not hesitate to deal with him and East Coast again.

'Cindy A' - Facebook Reviewer

My salesman Chris Peterson, which I purchased two vehicles from, was extremely professional and courteous and I would not purchase another vehicle from anyone else. We had a wonderful experience with everyone involved. Thanks so much Chris Peterson. 


'TNichols' - DealerRater Reviewer

Kimberly Johnson at East Coast Honda was great! She made our family feel welcome and really took our needs into consideration when helping us find our new car! We would recommend them to anyone looking for a place to purchase a quality vehicle without any hassle or pressure.

'Carol J' - Facebook Reviewer

I just purchased a new Honda from East Coast Honda dealers in South Carolina. Tripp Strickland was my salesman, he did an excellent job with his customer service making you go smooth. I'm thrilled with my new Honda. I would highly recommend them to anyone looking to shop a Honda.

'Tina S' - Facebook Reviewer

I went to see Tripp Strickland for my new car and he is absolutely amazing! I got exactly what I was looking for and my payments are less than expected!!! If you're looking for a car see Tripp! He is the best at what he does!

'Samantha R' - Facebook Reviewer

Mike Collins really went the extra mile to help us purchase a vehicle that would be safe and reliable for our family while sticking to our budget. He was honest, upfront, and knowledgeable about his product. We are very happy with our purchase and would refer anyone to him to purchase a vehicle. He made our experience simple, easy and enjoyable. We are glad to have had him to work with. Thank you Mike!

'Destiny S' - Facebook Reviewer

Mike Collins made my first experience of purchasing my first car amazing. I love my car and see myself doing more business with them in the future. East Coast Honda is the best!!!

'Carolyn B' - Facebook Reviewer

Love East Coast Honda, especially the service department. Everyone is knowledgeable, friendly, and very helpful. I actually LIKE to go have service on my car. Am on my seventh Honda, second CR-V and fourth Honda from East Coast. Next one will be from there as well. 

'Nikki C' - Facebook Reviewer

Bought my 2017 Civic EX from Jay, he is very understanding and very knowledgeable. 




'DJ Barry' - DealerRater Reviewer
We want to thank Kimberly Johnson for all her help in trading in and purchasing out new Honda Civic. Kimberly made the entire process a breeze and our trade in was very fair. We've purchased Honda in the past and once again we're happy we made the decision to purchase again. THANK YOU KIMBERLY! YOU'RE THE BEST. We also want to thank Gregory Smith for getting us through the finance paperwork with ease. And thank you both for your help with follow-up questions after our purchase.