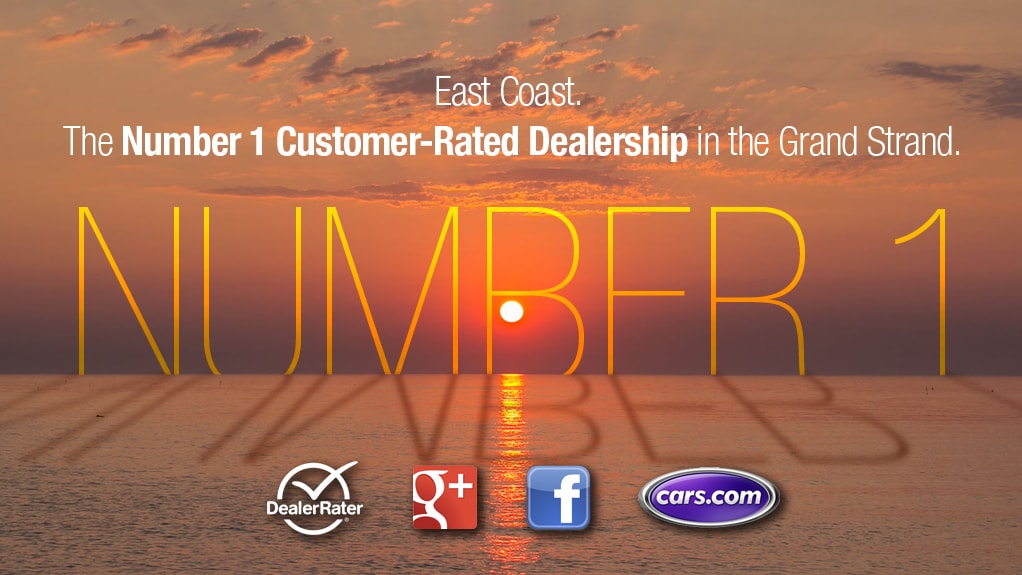 'Tim M' - Facebook Reviewer

Jeremy Hull is an excellent salesman at East Coast Honda. Low pressure and attentive, Jeremy isnt simply interested in selling you a car. He is interested in serving your needs! In short, Jeremy listens. He finds out what you are looking for and then he works hard to find you a vehicle that is reliable and within your budget. Jeremy Hull is a good man and you will be hard pressed to find a more reliable guide in purchasing your next car. Tell him Tim Melton sent you!


'John R' - Facebook Reviewer

I've bought three cars from this dealership. The most recent experience was with Chris Peterson and it was about as easy as could be. He was very helpful and patient with us as we roamed the parking lot in the August heat looking at different cars. I think we received a fair price for the car we bought and it didn't take an excessive amount of negotiating.


'Barry and Nancy B' - Dealerrater Reviewer

We recently purchased a new 2017 Honda with Tripp Strickland as our Salesperson. Tripp was by far the most knowledgeable car salesperson we have ever dealt with. He attention to every detail shows his commitment to his job. Although we just came in to check cars out, we drove off the lot with a new car. We would highly recommend East Coast Honda and Tripp to our neighbors and friends.

'Caitlyn C' - Facebook Reviewer

This was my first "adult" purchase since graduating from college and I went into with a certain car and price point in mind. I cannot express how grateful I am for Chris Peterson and his guidance throughout this experience. He created a rapport that instantly made me trust and feel comfortable with him. He was extremely helpful, understanding, patient and HONEST. He explained every detail to me that would be beneficial and worked with my financial background (student loans an
...
d all) to help me find the perfect car. I left yesterday in a brand new 2017 Honda Accord and I could not be more ecstatic. Everyone involved in this process was extremely helpful and incredibly kind. Special thanks to Jordan in the finance department for being patient with me while explaining everything, in great detail, that I needed to sign. I have been raving about Chris, Jordan and the rest of East Coast Honda all day. I will absolutely come back! Chris, I can't express my gratitude enough towards your diligence in making all of this happen. Thank you!

'Angela L' - Facebook Reviewer

Huge shout out to Steve and Joe! They were phenomenal and worked so well with myself and my 6 year old son to get in a reliable car in my budget and in a hurry. Considering the circumstances I didn't feel the least bit of pressure and they were incredibly patient with my (stir crazy) son and my emotionally drained self. Don't miss out go to East Coast Honda for the most pleasant car buying experience.


'Kandice K' - Facebook Reviewer

I have purchased 2 cars from here and they are amazing !! And the workers go above and beyond for you. Will never go anywhere else. If you ever go ask for Mike
C
ollins!! He's very trust worthy!!


'Lonnie Y' - Dealerrater Reviewer

Just purchased a Honda Accord EX L. Had a great dealership to work with and Tripp is an outstanding salesman. Highly recommend anyone looking for a vehicle purchase to go here.


'Beach Family' - Cars.com Reviewer

After researching small/compact SUV's we had narrowed our choices down to the Honda CR-V and one other brand vehicle. We test drove at East Coast Honda and were impressed with the vehicle's ride, interior room, trunk space, and technology. Decided to stick with Honda - this is #7!
'Larry and Connie K' - Cars.com Reviewer

If you are in the market for a new or used car and you want a very pleasant and satisfying experience, you will not be disappointed if you ask for Tripp Strickland at East Coast Honda/VW in Myrtle Beach, SC. Tripp is very knowledgeable and extremely pleasant to do business with. Many thanks Tripp for assisting us in our car purchase.
'Tammy W' - Facebook Reviewer

Melissa DeMarco made my shopping experience a breeze. She answered all of my questions and made sure I was completely satisfied with my decision. Love my new 2017 Honda CR-V Turbo.


'Trisha L' - Facebook Reviewer

I want to say thank you to Melissa DeMarco for all her work! For the patience she has had with my credit issues. I just bought my 4th car from her and went from a 25% interest on my first car to 1.9% on my fourth one. You always were positive and let me know that I could do it. I love that you have a no pressure attitude. I see you as my friend and not just my salesperson! Thanks again and I give you a big 5 stars!!!

'Pattym1110' - DealerRater Reviewer
We bought a new Honda Civic last year. Our sales person was Mike Collins. He was awesome. He was so knowledgeable, courteous and made the process smooth from beginning to end. So when we decided to purchase a new truck for my husband we knew we wanted Mike to handle this purchase also. I would highly recommend him to anyone looking to purchase a Honda. He really goes the extra mile to make sure that we were satisfied with our purchase.
'Joseph D' - Facebook Reviewer
I purchased a certified pre-owned 2015 Civic last week and its been great. Chris Peterson was awesome to work with, he's easy going and laid back and helped me find exactly what I was looking for. I would highly recommend East Coast Honda and Chris to anyone looking to buy a new car!
'beaujturner' - DealerRater Reviewer
I dealt with Mike McCardle and he made the process easy from the beginning to the end. Mike had fantastic customer service and went out of his way to make sure I was completely satisfied.
'Carrie W' - Facebook Reviewer
I recently purchased a new vehicle with East Coast Honda. Chris Peterson was my salesman and was excellent to work with. I would recommend anyone looking to buy a new or used car to contact him and he will make the car buying experience a pleasant one.