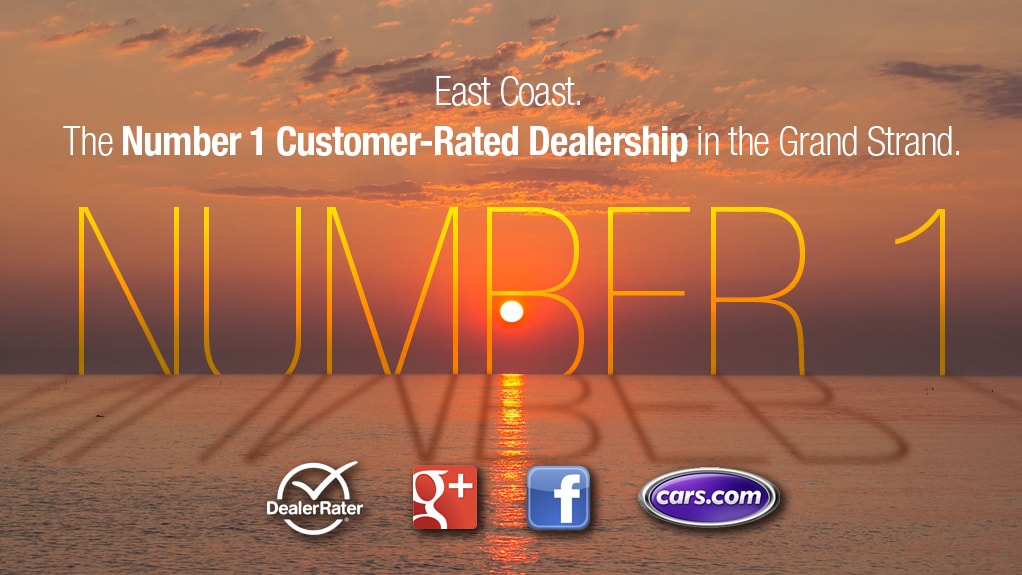 'Larry and Connie K' - Cars.com Reviewer

If you are in the market for a new or used car and you want a very pleasant and satisfying experience, you will not be disappointed if you ask for Tripp Strickland at East Coast Honda/VW in Myrtle Beach, SC. Tripp is very knowledgeable and extremely pleasant to do business with. Many thanks Tripp for assisting us in our car purchase.
'Tammy W' - Facebook Reviewer

Melissa DeMarco made my shopping experience a breeze. She answered all of my questions and made sure I was completely satisfied with my decision. Love my new 2017 Honda CR-V Turbo.


'Trisha L' - Facebook Reviewer

I want to say thank you to Melissa DeMarco for all her work! For the patience she has had with my credit issues. I just bought my 4th car from her and went from a 25% interest on my first car to 1.9% on my fourth one. You always were positive and let me know that I could do it. I love that you have a no pressure attitude. I see you as my friend and not just my salesperson! Thanks again and I give you a big 5 stars!!!

'Pattym1110' - DealerRater Reviewer
We bought a new Honda Civic last year. Our sales person was Mike Collins. He was awesome. He was so knowledgeable, courteous and made the process smooth from beginning to end. So when we decided to purchase a new truck for my husband we knew we wanted Mike to handle this purchase also. I would highly recommend him to anyone looking to purchase a Honda. He really goes the extra mile to make sure that we were satisfied with our purchase.
'Joseph D' - Facebook Reviewer
I purchased a certified pre-owned 2015 Civic last week and its been great. Chris Peterson was awesome to work with, he's easy going and laid back and helped me find exactly what I was looking for. I would highly recommend East Coast Honda and Chris to anyone looking to buy a new car!
'beaujturner' - DealerRater Reviewer
I dealt with Mike McCardle and he made the process easy from the beginning to the end. Mike had fantastic customer service and went out of his way to make sure I was completely satisfied.
'Carrie W' - Facebook Reviewer
I recently purchased a new vehicle with East Coast Honda. Chris Peterson was my salesman and was excellent to work with. I would recommend anyone looking to buy a new or used car to contact him and he will make the car buying experience a pleasant one.
'Victoria' - DealerRater Reviewer
Mica Francis was very accommodating and made sure that I had everything I needed and wanted. I ended up driving off the lot with my new Honda that met all of my needs. She definitely knows what she's doing.  
'Adam D' - Google+ Reviewer
I live in Wilmington NC and needed to get my 2016 Honda Civic's computer reprogrammed because of an issue it was having. I have tried dealing with the Honda dealership in Wilmington in the past but have come to the conclusion that I would rather tie steaks to my face and swim in pool of hungry pit bulls and piranhas than to deal with Stevenson Honda in Wilmington so I called the next closest one in Jacksonville NC. The people in Jacksonville were extremely nice and said they would gladly look at it although they had never heard of the issue I was having with my car even though I believe every 2016 turbo model civic in the world needed this update. They could not guarantee they could find the problem or fix it so I called the Honda dealership in Lumberton NC. They too had no idea what I was talking about. I then called East Coast Honda in Myrtle Beach and talked to Tammy in the service department and she knew immediately what I was talking about. I was calling on a Saturday morning and informed Tammy that I was unable to get my car in during the week so she asked if I could drop it off that very day. I gladly drove to Myrtle Beach right after getting off the phone with her and had full intentions on leaving my car there for the day and coming back and getting it that night. Tammy on the other hand did not want me to have to come back from Wilmington later that night so she had it put into the shop the very minute I arrived and within 20 minutes she had me heading back to Wilmington with my car completely fixed. I will be driving the hour and a half to Myrtle Beach for any future service I need with my two Hondas. Extremely great service and business. I couldn't not be happier. Thank you so much Tammy and the rest of East Coast's crew of people.
'Eddie M' - Yelp.com Reviewer
Bought two cars here and Michael T is the man! He can make things happen and both times I was very happy with my experience! If your looking for a Honda this is the place! We all know Honda makes amazing cars!
'Asa A' - Facebook Reviewer
Had a great experience at East Coast Honda. Chris was down to earth and eager to lend a hand in finding the perfect car for my budget, as well as the performance and reliability I was looking for. Many thanks!
'Carol62' - DealerRater Reviewer
Chris Peterson, thank you for making our car purchase a great and comfortable experience! You helped us not only find the right vehicle to suit our needs, but also helped us find auto insurance. I am amazed at how quickly we were able to close the sale and enjoy the rest of the day driving our new purchase.
'Megan H' - Facebook Reviewer
I just bought a car from East Coast Honda and I couldn't be happier. Chris Peterson went above and beyond to make sure I was getting into the right vehicle that I loved. I definitely couldn't have imagined getting the car from anyone else and he made sure the car was unbelievably clean for me. Best service around!
'kathy70' - DealerRater Reviewer
Michael McCauley spent 3 hours with us. We drove 2 vehicles and sat in another. Unfortunately the vehicle we wanted was not at this dealership. We had agreed to wait for a vehicle but found one we wanted at another dealership. When I told Michael this, he was very nice about it. The salesman had worked hard to please us and I would recommend this dealership and Michael if you are looking for a new or used car. They are good people. 
'Rosie B' - Facebook Reviewer
Thank you to Chris Peterson and Lee Pryor for helping me out with the purchase of my certified pre-owned 2013 Honda Civic! I love it!
'Jeffl13' - DealerRater Reviewer
Corey Loving was a very professional and considerate sales rep. Went that extra mile to make sure we had the type of vehicle with the lower mileage that we wanted. Was helpful and very friendly. Would not hesitate to deal with him and East Coast again. 
'Ron K' - Google+ Reviewer
Tripp Strickland was a great help for us to get the vehicle we wanted at the price we wanted to pay. 
'Cindy A' - Facebook Reviewer
My salesman Chris Peterson, which I purchased two vehicles from, was extremely professional and courteous and I would not purchase another vehicle from anyone else. We had a wonderful experience with everyone involved. Thanks so much Chris Peterson. 

'TNichols' - DealerRater Reviewer
Kimberly Johnson at East Coast Honda was great! She made our family feel welcome and really took our needs into consideration when helping us find our new car! We would recommend them to anyone looking for a place to purchase a quality vehicle without any hassle or pressure.
'John S' - Google+ Reviewer
Friendly, prompt service department. We're from out of town and needed new wiper blades for our Honda, so we took our car to East Coast and were in and out in less than 15 minutes. Our service advisor walked out to the car and installed the blades herself! Now we know where we will take our car when we need service when we're in Myrtle Beach!
'Carol J' - Facebook Reviewer
I just purchased a new Honda from East Coast Honda dealers in South Carolina. Tripp Strickland was my salesman, he did an excellent job with his customer service making you go smooth. I'm thrilled with my new Honda. I would highly recommend them to anyone looking to shop a Honda.
'Tina S' - Facebook Reviewer
I went to see Tripp Strickland for my new car and he is absolutely amazing! I got exactly what I was looking for and my payments are less than expected!!! If you're looking for a car see Tripp! He is the best at what he does!
'Samantha R' - Facebook Reviewer
Mike Collins really went the extra mile to help us purchase a vehicle that would be safe and reliable for our family while sticking to our budget. He was honest, upfront, and knowledgeable about his product. We are very happy with our purchase and would refer anyone to him to purchase a vehicle. He made our experience simple, easy and enjoyable. We are glad to have had him to work with. Thank you Mike!
'Destiny S' - Facebook Reviewer
Mike Collins made my first experience of purchasing my first car amazing. I love my car and see myself doing more business with them in the future. East Coast Honda is the best!!!
'Carolyn B' - Facebook Reviewer
Love East Coast Honda, especially the service department. Everyone is knowledgeable, friendly, and very helpful. I actually LIKE to go have service on my car. Am on my seventh Honda, second CR-V and fourth Honda from East Coast. Next one will be from there as well. 
'Nikki C' - Facebook Reviewer
Bought my 2017 Civic EX from Jay, he is very understanding and very knowledgeable. 
'DJ Barry' - DealerRater Reviewer
We want to thank Kimberly Johnson for all her help in trading in and purchasing out new Honda Civic. Kimberly made the entire process a breeze and our trade in was very fair. We've purchased Honda in the past and once again we're happy we made the decision to purchase again. THANK YOU KIMBERLY! YOU'RE THE BEST. We also want to thank Gregory Smith for getting us through the finance paperwork with ease. And thank you both for your help with follow-up questions after our purchase. 
'Robert R' - Facebook Reviewer
I want to thank Mike Collins for all his help. My wife and I told him what we were looking for/our budget and he really looked out for us. So what I thought was going to be a very stressful process turned out to be very smooth. Thanks Mike!!!!!!
'Jerry C' - DealerRater Reviewer
Since we have received such great service on our 2012 Odyssey, when I needed a new vehicle, I stopped by East Coast Honda. Dave Bowering was my rep. He was great to work with, showed me several vehicles and took my preferences seriously. When the first visit did not yield the vehicle I wanted, he kept me posted and the vehicle like I wanted came a few days later. The finance manager (Jordan) was also great to work with - very organized, explained things well with no pressure. I give the dealer a "10"

'Lindsay E' - Google Reviewer
It was time for a new whip, but I've never had the experience of buying a car before. I was nervous and really unsure of how to go about it. Luckily, upon pulling up to East Coast, my best friend and I were greeted by Tripp Strickland. I don't like when people push or throw things on me, in fact, that's part of the reason my friend came with me, she can be a real you know what hah. However, no need for my secret weapon. Tripp was very kind and laid back. He didn't see me as a nervous inexperienced customer and take advantage, he made me feel comfortable and excited to be there. I truly appreciate all of Mr. Strickland's help and am loving my new car!

'Judith A' - Foursquare Reviewer
Just purchased a certified pre-owned CRV and had my first service this week. Matt greeted me when I pulled in, what I needed was done quickly and well, and my car was even washed! A-1 service!

'Jennifer H' - Facebook Reviewer
Thanks Mike Collins!!! You are amazing!!!! We love our new car :-)

'Don W' - Facebook Reviewer
My wife and I just purchased a 2017 Honda CR-V from East Coast. Our salesman, Tripp Strickland was top notch! He was extremely knowledgeable of the products and very personable. His no pressure sales approach and personality sold us on Honda products. The overall dealership reception was outstanding!

'Joangotigers' - DealerRater Reviewer
We purchased used Honda Odyssey from East Coast. Our salesman, Tripp Strickland, made our experience great. It is a pleasure to go to a dealership and not have the salesmen hound you. Tripp made sure we were taken care of. His knowledge of the vehicles and respect was very much appreciated. East Coast Honda is very fortunate to have a young man like Tripp working for them. Kudos to East Coast Honda!

'Arlene P' - Facebook Reviewer
We recently bought a new vehicle at East Coast Honda. We recommend them for a car, new or used. Ask for Mike Collins, he's the best and will treat you right! Thanks Mike!!

'Robert A' - Google+ Reviewer
Thank you Ashley M. Arnold! We are so excited to be the new owners of a 2017 Honda Civic Touring. You and your dealership were so easy to work with!

'Vanessa Jonathan F' - Facebook Reviewer
It was a pleasure to work with Kimberly Johnson. She was very efficient and easy to work with. Already loving being a total Honda family!

'Scott' - Google+ Reviewer
Thanks to the team at East Coast Honda, specifically Ashley and Newton, for their time assisting me with a new vehicle last week. I am a repeat customer of East Coast and consistently have had positive experiences with the staff and overall process there.

'Debbie P' - Google+ Reviewer
Thank you to the East Coast Honda staff, especially Sales Consultant Corey Loving for a stress free car buying afternoon! Mr. Loving was professional, knowledgeable and calmly educated me about buying my car. This is the dealership who treats consumers with respect, and no high pressure or hours negotiating. My new car is beautiful and I had a stress-free buying experience. The most difficult part was selecting a car color, as the inventory was tremendous! New Years's blessings to East Coast Honda owners, Corey Loving and staff!  

'Karen J' - Facebook Reviewer
This was the first time buying a new car on my own. Mike Collins was awesome! Super helpful. No pressure. Very informative. He catered to us and answered all of our questions. Even the ones I didn't know to ask! It was a great experience. Everyone was super kind and helpful. Thanks again. I love my CR-V!

'Lauren F' - Google+ Reviewer
Ashley Arnold and Kimberly were a big help in getting me a new car with a quick turn around as we were getting ready to move out of state. I always appreciate the friendly staff at East Coast.

'McKenzie L' - Google+ Reviewer
Ashley M. Arnold was super helpful in helping my buy my first car. I was upside on a Toyota Prius and she got me a fair trade in price and a great price for the vehicle that I purchased. She worked with me all day long and worked with the manager to get me the best deal possible. Most importantly she was friendly and honest which is rare because most car salesman are not honest. If you need a new car go see Ashley and she will help you find the best deal possible!

'Gail R' - Facebook Reviewer
We have purchased our Honda Pilots at East Coast Honda and are extremely happy with our vehicle. Our salesman Mike Collins is top rate, he goes above and beyond our expectations to be sure we know all the features of our car. He also treats us as family...nothing like that feeling.

'Jimmy K' - Google+ Reviewer
We moved to the Myrtle Beach area 8 years ago and have been loyal customers at East Coast Honda for all of those 8 years. We have purchased/leased 4 vehicles from them over those 8 years. They do not undervalue your potential trade ins, they do not "jack up" the price of their vehicles just so you think you're getting a good deal when they take money off the price, and they treat customer loyalty the same way they treat new customers. We purchased our first vehicle from East Coast Honda 8 years ago this month, our salesman at the time was Dennis Moore, who has since retired. For the past 3+ years, our salesman has been Jeremy Hull. I urge anyone reading this to ask for Jeremy Hull when visiting the dealership. He is a true professional. He will not follow you around as you browse the showroom or outside the lot, unless you ask him to do so. If you do decide to enter the purchasing/leasing process, he is extremely knowledgeable about each vehicle and the features each model offers. He will guide you in the right direction...the direction that best suites your needs, not his own. He does not make the "haggling" process adversarial. Scott Proctor, the General Manager, is not your typical General Manager who is called in to "close a deal." Over the years, he has made a point of coming over to greet us showing genuine interest in our experience and happiness with whatever vehicle we are currently driving, and always instructs us to contact him directly if needed. He is a polite, soft spoken gentleman who does not make the car buying experience adversarial. Too many dealerships in this area have this process where the salesman cannot meet your offering price and then they bring in "the closer" who speaks to you in a "condescending polite" manner and tells you how they use all these mathematical formulas that you "couldn't possibly understand" (I have a degree in Mathematics, but even if I didn't, 3 minutes on Kelly Blue Book and a simple auto loan calculator gives you all the info you need). They then get angry when you don't agree on a deal. I can assure you that your experience with Scott will be nothing like that. I can guarantee that he will introduce himself to you with a handshake and will offer another one if you can come to terms on a sale, but most importantly, he will shake your hand if a deal cannot be met, and welcome you to come back at any time if your needs change, and to contact him directly if need be. Finally, their service department is fantastic. They will do their best to accommodate your needs when you have them, but if it's a Honda, there's a pretty good chance you won't be there much except for oil changes. If you do find yourself in the service department, be sure to ask for Irwin Cumberbatch. He is a kind and generous man who will listen to your concerns and have them addressed. He also won't be "the guy" who comes to speak with you in the waiting area about "all the other things" they found wrong with your car while they were conducting a simple oil change. So, if you are in the market for a Honda, new or used, be sure to ask for Jeremy Hull as your salesman ask to speak to Scott Proctor if you need the assistance of the General Sales Manager, and be sure to look for Irwin while in the service department.

'Ashley S' - Google+ Reviewer
My salesman, Shawn Huskins, helped me find exactly what I was looking for at a more than fair price.

'Matthew D' - Google+ Reviewer
My sales consultant (Ashley Arnold) did a wonderful job helping to get my new lease up and running. Also held my hand through all that scary paperwork that tends to fudge up the whole process. Really happy I don't have to go through this whole ordeal every week but she made it a much more enjoyable experience.

'Dillon D' - Facebook Reviewer
Shout to Mike Collins over at East Coast Honda! Great guy and very thorough.

'Eddie H' - Google+ Reviewer
Just purchased a new 2016 Honda CR-Z for my daughter from salesperson Chris Peterson. Very satisfied with the process, from negotiating the deal to trading in my 2011 Honda CR-Z. Great salesperson (Chris), sales manager (Tommy) and finance manager (Newton). Smooth process.

'Amber E' - Google+ Reviewer
Bought my first Honda yesterday!! Thanks to Chris Peterson!!! Very good first experience. He was very informative and knowledgeable!

'Donna L' - Facebook Reviewer
My family has purchased 4 vehicles from East Coast Honda with Melissa DeMarco in the last few years. Each experience has been a positive one. I've dealt with other dealerships in the Myrtle Beach area and none can compare to the competent employees and pleasant attention you get at East Coast, both in sales and service. I recently purchased a CR-V for myself and my daughter purchased an HR-V. Melissa made sure my daughter was able to get the car in her color of choice, even though it wasn't on their lot. We both love our cars and I see only Honda in my future!

'PinkSexyHair' - Google+ Reviewer
I recently bought a new 2016 Honda Civic from Joseph Stanley at East Coast Honda. Joseph was extremely helpful at getting me into the car that I wanted and I could not be happier!!!  Thank you so much Joseph Stanley! I love my car and will continue to buy all of my vehicles from you at East Coast Honda!!!!! WONDERFUL experience!!!

'Kathie K' - Facebook Reviewer
I have been a customer of East Coast Honda for 18 years and have purchased/leased 5 Honda's from them. They have always been courteous and professional to work with and I have always found them to be extremely competitive. Customer service is stellar from the service department to sales. Love doing business with them and looking forward to more cars from this dealership.

'Cathy B' - Google+ Reviewer
Wonderful sales and service. Mike Belanger and Michael McCauley are top notch. Great place to purchase a new Honda.

'Kparnell' - DealerRater Reviewer
This is the second vehicle we have bought from East Coast Honda. Each experience has been a great experience. I feel the deals were fair and the service impeccable and working with Mica could not have been any more pleasurable. I highly recommend East Coast Honda.

'Dominique F' - Facebook Reviewer
Thank you Rob Thalman! I just got my 2017 CR-V and I love the new changes, this is my second CR-V! Please stop in and see Rob Thalman for your new car! Special thanks also to Scott Proctor, Sales Manager. HONDA FOR LIFE!

'Kevin P' - Google+ Reviewer
A+ working with Mica was a pleasure and the service was impeccable!

'Roxanne S' - Facebook Reviewer
Awesome people! Corey Loving top notch along with the entire staff we dealt with in the purchase of my mother's new car. Such a nice experience!! Thank you Cory and all involved!!

'joy7777' - Edmunds.com Reviewer
We bought our first Honda last night, a HR-V from East Coast Honda. Our sales consultant Ashley Arnold was fantastic! She was very informative, helpful, and took her time to set up our car systems. We got the best deal ever with her help. We definitely want everyone to ask for Ashley at East Coast Honda in Myrtle Beach, SC!!

'Frank E' - Facebook Reviewer
I would highly recommend East Coast Honda to anyone looking to purchase a vehicle. We have now purchased 2 vehicles from them and they have always been helpful and have made the process easy. Our latest purchase was for a first car for our daughter and they were great. Juan, our salesman was extremely patient and allowed our daughter to drive many vehicles to help her decide what she really wanted and gave us a great deal. Scott Cahill was great to work with and made sure we got a very fair price. Everyone there treated us well and we never felt rushed or pressured. They went above and beyond this time, just like last time. I can't imagine we will buy from another dealer in the area in the near future. East Coast will be our first and last stop every time we are looking for a car.

'Sara B' - Facebook Reviewer
We recently moved to the area and purchased a 2017 Civic from East Coast. It was by far the best experience we've ever had at a car dealership. Kimberly was so helpful and got us a great deal! Everything was explained very well and we were in and out in no time with the perfect car!Kimberly gave us great customer service! Definitely a great place to buy a car!

'Richard B' - Google+ Reviewer
Big thanks to Shawn Huskins and Jacob Elliott for helping me with my recent purchase. From the moment I arrived Shawn took the time to make sure I was informed about each vehicle and gave me a 30+ minute tutorial on the functionality of the car. Jake did a great job explaining the warranty and protection packages and choose the best one for my needs....trust me listen to what he says, you won't regret it. This is the third car I purchased through East Coast and they have exceeded my expectations every time. I would recommend them to anyone looking for a great buying experience.

'Danielle P' - Facebook Reviewer
Scott Cahill as well as all the staff were very helpful and provide great service during and after the sale!

'Crissy E' - Facebook Reviewer
We have purchased multiple vehicles from East Coast and have spent a lot of time just shopping their lot. Whether you are looking around or making the purchase they always treat you great. Juan is the nicest guy and we will always use him for our vehicle purchases. We just bought our daughter her first car and he really took the time to listen to all of the wants and needs for her. Scott Cahill gave us a great deal and we appreciate the time they all took with us.

'Eddie' - DealerRater Reviewer
Recently visited East Coast Honda to purchase a 2017 Honda Ridgeline RTL-E, met with Sales Consultant Chris Peterson. Chris was very helpful through the whole purchasing process from test drive, discussion of which model fits my needs to finally negotiating and ordering the vehicle. I would definitely recommend this dealership and Chris to purchase a Honda.

'OnRussianPointe Shoes' - Google+ Reviewer
I was in a tragic auto accident. I didn't even know I was in one till days later. After a few months of some recovery I needed to get a car for Drs visits, etc as mine was completely totaled (I LOVED my car I had!!!!). I went up to East Coast Honda and looked at a couple cars and nothing really caught my eye (but I was stuck on my totaled car). I went inside and met Mr. Scott Proctor and what a truly wonderfully nice man he is! I explained the colors I liked inside and outside. He picked out a few and had Mike/Michael McCauley show them to me and told me that if I wanted a particular car they would do their best to try and get it at the sales auction, as I didn't mind. It just so happened that Mr. Scott Proctor had someone trade in a car that he thought I would like. So Mike/Michael McCauley and I went for a test ride. We drove just down the road to where my father was so he could see it. To get back to East Coast Cars...my fear of driving (because of the wreck) started to set in so Mike/Michael McCauley drove me back to the dealership. SO NICE! Ever since I have lived here I've always gotten my cars from East Coast Honda. They are GREAT. Mr. Scott Proctor and Mike/Michael McCauley are great! Mr. Scott Proctor was especially kind, caring and so patient. As long as he is there I WILL always come to East Coast Honda. I actually prefer to deal with just Scott Proctor if allowable. Mike/Michael McCauley is a good asset to this dealership as well. Thank you so much for everything!! If Mr. Proctor were to ever quit or leave I doubt I would shop there anymore!! I bought a car that day :-) Thank you to both of you!!!!! Thank you again and I'm hoping when everything is settled with me that I will be back up there buying the exact car I want. Mr. Cahill don't let Mr. Proctor ever leave....and make sure Mr. McCauley stays too!!! Hope to be back soon.